ECRAL series summary
"ECRA ~= sparkle, radiance"; "~RAL" = mineral"
By combining these two words, ECRAL means sparkling mineral,
And the concept of our private brand cosmetic.

"Full of confidence and stay radiance forever"

Originated from an igneous volcanic rock/mineral variety, that consist high silicon mineral, which mined only at certainly limited area in Ehime Prefecture, powder sized then blended as a formula for cosmetic. Since it have a special trait of binding hyaluronic acid and collagen, it is expected to have the ability to strengthen enamel and also resulting beautiful skin.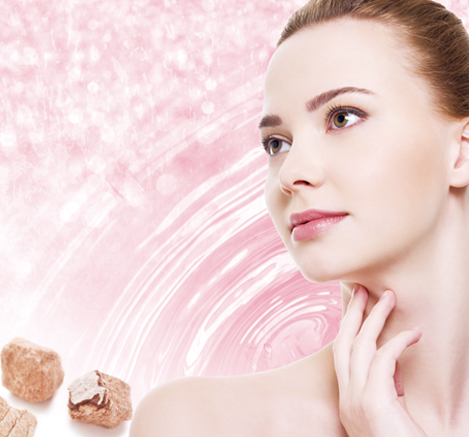 Product Line-up
Cleansing Gel

Makes skin feels pores less smooth
and supple just like silk

Smooth feels, water soluble cleansing gel. With extract from plant and natural silicon, it sweeps away dead surface skin, penetrates into pores and remove the floating dirt. It absorbs instantly, remove impurities, also boosting skin's natural moisturize balance.

ECRAL Cleansing Gel

200ml

Moisturizing Lotion

Keep moisturizing while penetrate
into the skin, and leaving it bouncy.

Liposome ingredients, penetrate into the skin, moisturize skin from inner-side. Leaving the feeling of smooth and firm skin.

ECRAL Moisturizing Lotion

120ml

Moisturizing Gel Cream

Provide it with intensive hydration,
moisturize and fortifying skin

This bouncy gel cream features a special blends of collagen, hyaluronic acid, pro-vitamin B5 which effectively helps to improve the skin barrier against moisture loss.

ECRAL Moisturizing Gel Cream

50g

Sunscreen Gel Cream

Non-chemicals and non-parabens,
good for skin Sunscreen

Contain no UV absorbent, non-chemical Sunscreen Gel Cream.
Leaving no burden for the skin, absorb quickly without leaving white mark and non-greasy feeling. In addition it contains extract element which provided by NutroxSun™. High UV protection, gentle for the any skin and can be used for delicate skin and children.

ECRAL Sunscreen Gel Cream

30ml