Cosmetics Sales
Our company distribute beauty related products which were manufactured in Japan, including our original cosmetics brand "ECRAL" series.

We have been discovering and proposing high quality products, and exporting to overseas recently, especially
focusing on Asia, where awareness of beauty is growing.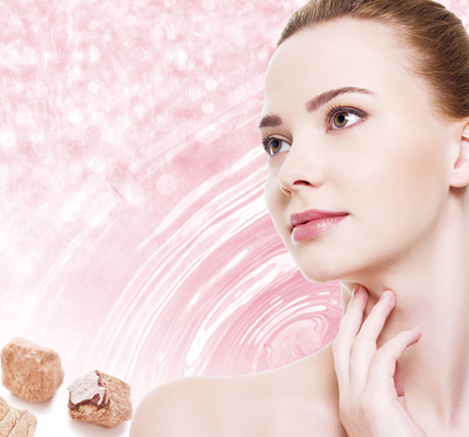 Product Lineup
●

ECRAL series

ECRAl is, our originally developed skincare brand, with concept of
"Continue to shine with a full smile of confidence and happiness"
Make for all women who want to be beautiful, with the power of natural silicon mineral conditioning ingredient.
Product catalogue
Cleansing Gel

Make you do not feels the skin pores, it is smooth and supple just like silk

Smooth feels, water soluble cleansing gel.With extract from plant and natural silicon, it sweeps away dead surface skin,penetrates into pores and remove the floating dirt.It absorbs instantly, remove impurities, also boosting skin's natural moisturize balance.

ECRAL Cleansing Gel(face cleansing gel)200mL

natural silicon ※1

natural cleansing ingredient mukurossi peel extract saponaria officinalis extract coix extract

2 type of collagen ※2

hyaluronic acid ※2

Siberian larch wood extract ※3

chamomile flower extract ※1

<How to use>amount per usage:2 to 3 push

①Without soaking your face, take an appropriate amount (2 to 3 push) into the palm of your hand, spread over your entire face, apply while lightly massage your face, especially the T-zone, then the dirt will gently lifted.
②Rinse thoroughly with water or lukewarm water. For normal and dry skin type, there is no need to clean it twice.
Remove sebum and blackheads on nose and T-zone. This is recommended for men!

Moisturizing Lotion

Keep moisturizing while penetrate into the skin, and tightening it.

※

Liposome ingredients, penetrate into the skin, moisturize skin from inner-side. Suppressing sebum, leaving the feeling of smooth and firm skin.

ECRAL Essence Lotion(moisturizing lotion) 100mL

natural silicon ※1

2 type of collagen ※2

hyaluronic acid ※2

ceramide ※2

Siberian larch wood extract ※3

yeast extract ※1

glycyrrhizinic acid ※1

<How to use>amount per usage:3 to 5 times push

After routine washing in the morning or evening, apply appropriate amount (3 to 5 push) on cotton or into the palm of your hand, dabs your entire face, overlap on the anxious area.
※ Please shake it lightly before use

Moisturizing Gel Cream

Provide it with intensive hydration, moisturizing and fortifying skin

This bouncy gel cream features a special blends of collagen, hyaluronic acid, pro-vitamin B5 which effectively helps to improve the skin barrier against moisture loss.

ECRAL Clear Rich(moisturizing gel cream) 50g

natural silicon ※1

2 type of collagen ※2

2 type ofhyaluronic acid ※2

ceramide ※2

Siberian larch wood extract ※3

Trehalose ※1

glycyrrhizinic ※1

<How to use>amount per usage:2 to 4 times push

① After conditioning your skin with lotions and essences, apply appropriate amount (2 to 4 push) into the palm of your hand, spread it thinly over the entire face and neck,
blend it into your skin evenly.
②Especially in areas where skin dryness is concerned, layered in small amount and blend it well.

Sunscreen Gel Cream

Free from alcohol UV absorbing ingredient, has a blue light cut effective sunscreen

Non-chemical sunscreen without using UV absorbing ingredient protects your skin from not only UV rays, but also effective for a blue light cut. Not only reflect the UV rays It contained lots of beauty essence that also effective about tone your skin up. And fit your skin without sticky feeling.
Protect your skin by SPF 50+ PA++++ from UV rays and environmental stress.
Furthermore, because lots of moisturizing ingredients are contained, it madks your skin hydrated.
Suitable for those who have sensitive skin and children, as well.


ECRAL Sun Shield Cream(sunscreen gel cream) 35g

<How to use>amount per usage: 2 to 4 times push

(For Face) Take a little amount of product and slightly spread it all over the face. Apply one more layer to the parts which always exposed by the sun.
(For Body) Be careful the product attach to your clothes and apply it to the parts exposed by the sun. It may be erased if you rub with hand or towel, so we recommend you to reapply the product often.


Moisture Face Wash

For the finest skin.

Soap-type facial cleansing cream similar to beauty essence.Elastic dense foam gently wraps the face and approaches the skin firmly while washing, also moisturizing with beauty ingredients such as 2 types of collagen and hyaluronic acid(※1). In addiction, natural mineral skin-conditioning ingredients (Rhyolite Powder) are firmly adsorb excess sebum, old keratin and dirt in the pores, and lead to smooth skin also one rank up brighter than before.
※1 water-solible collagen, Hydrolyzed collagen, Sodium hyaluronate

Ecral moisture face wash 50・100・150g

<How to use>

Take an appropriate amount product (around 2 cm) then make a foam bubble with room temperature or lukewarm water.
Then rinse it completely. In addition, you can feel the denser and creamier foam if you use the product with a foaming net.


Moisture Rich Cream

For a moment of luxuary,silky skin.

Citrus-scented body cream with natural mineral skin-conditioning ingredient(rhyolite powder) keeps the beauty ingredients firmly into the skin.Consist 3 types of hyaluronic acid(※2),works to moisturize into the stratum corneum layer.In result,a rich skin texture as a sign of balance between soft feel,moist feel,and a smooth feel.In addiction,the relaxation effect can also be expected from the luxurious blend of natural essential oil(※3) and citrus scent,and it can also be used for massage creams and hand creams.
※2 Sodium hyaluronate, Hydrolizedhyaluronic acid, Acetylhyaluronic acid Na
※3 Orange Oil,Yuzu peel oil

Ecral moisture rich cream 150g

<How to use>

After taking a bath, rub the cream as much as you like into your clean skin gently.
You can use it on the whole body.


Moisture Soap

High quality dense soap for your admirable skin.

High dense of beauty ingredients into soap.one-by-one starting from molding to polishing, a high-quality handmade soap.With full commitment in raw ingredient without any compromise, inorporate in the prescription of the high beauty ingredient with the moisturizing effect,It washes thoroughly while increase the firmness and lead to a healthy skin, with no dryness, but a refesh and transparent feels on the skin.

Ecral Moisture Soap standard weight 100g

<How to use>

Work the soap into a nice lather and then gently massage it into your skin. Then rinse thoroughly with water or lukewarm water.
You will get denser and creamier foam if you use the product with a foaming net.
The product can be used on both face and body.

Other
Linda Stage ShadoUV

New beauty supplement for UV protection,
just consume (lick) it before go out

Born from a concept, go out "a beauty spread out from inside the body", Introducing edible beauty supplement for UV protection. Contain "crocetin", which consist highly antioxidant effect. A convenient UV protection, for those with sensitive skin or those who forget to apply sunscreen. New concept for supplement, from "drink every day" to "just consume (lick) it when necessary".

Linda Stage ShadoUV30 pieces(blueberry flavor)

The power of natural ingredient "Crocetin"

Crocetin is an essense of gardenia fruit. It is a type of carotenoid which has strong antioxidant feature and has especially high absorption ability. It will help you to dispel your worry that a regular sun screen cream will not give enough protection for your skin. It's so easy that you only take 1 piece and get protection from UV for it.

This product is recommended if you…

◆ Feel that your regular UV protection cream is not enough.
◆ Feel hassle to taking beauty supplement continuously.
◆ Have sensitive skin to apply any sun screen cream.
◆ Feel difficult to swallow tablet or capsule.